Tom is Mr. Leather Europe 2024
Over the weekend 27-29 October 2023, Leather Friends Italia hosted the annual ECMC AGM and Mr. Leather Europe competition in Milan. I firstly want to take this opportunity to congratulate the host club, on what was a truly stellar weekend that was executed perfectly. Leather Friends Italia truly know how to run leather & fetish events!
I was running as a candidate, with my previous title being Mr Leather London 2022 – sponsored by London Leathermen. Going into the competition I was filled with nervousness yet excitement, knowing how much I wanted to showcase our London & U.K. community. I must admit that I did feel an extra sense of pressure, given that it had been a while since somebody from a U.K. ECMC club completed in Mr. Leather Europe.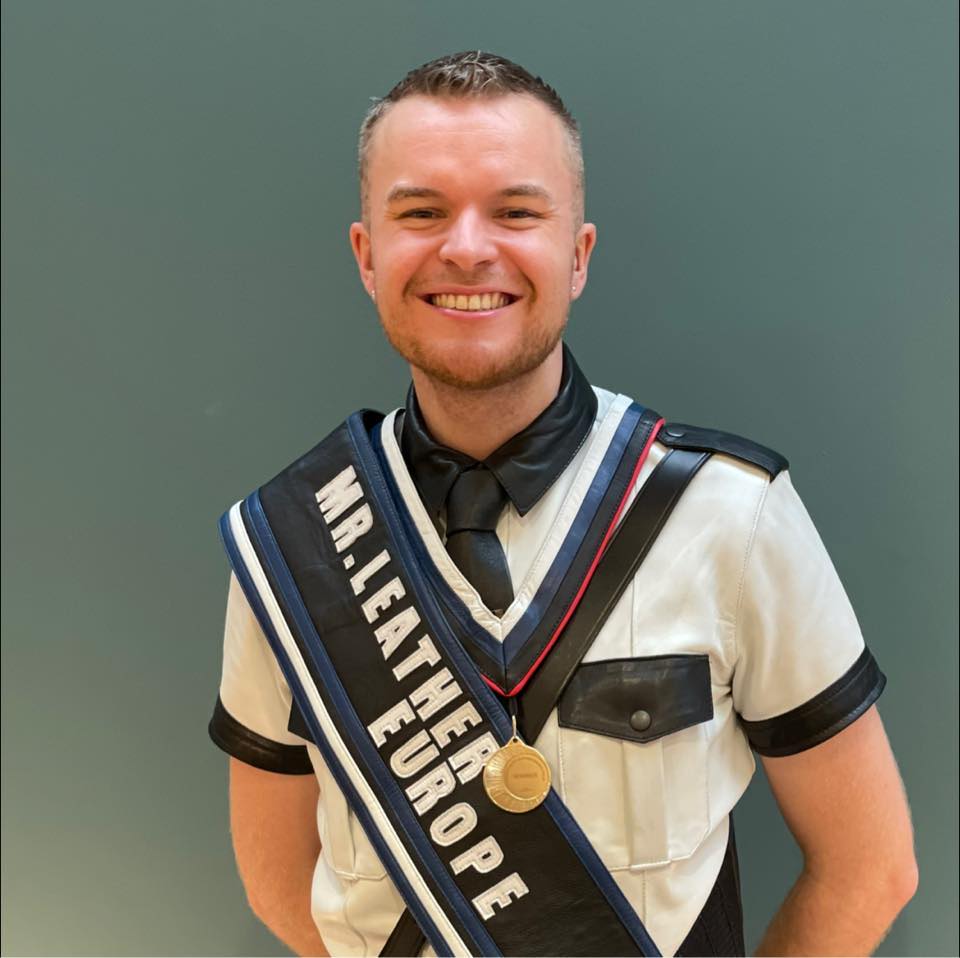 With that in mind however I was in the presence of five incredible European Titleholders, in which we looked after and supported each other (Nacho – Mr. Leather France, Jesus – Mr. ILBS, Niels – Mr. Leather Belgium, Stefano – Mr. Leathermen Italy, Maxwell – Italian Fetishman of the Year). Whilst there is only one winner that takes home the title, these five people are serious winners in my eyes. It takes nerve and guts to go up on stage in front of 170 people, and I could not be more proud of us six.
I knew that I wanted to talk about and showcase areas of my title year that I had experienced and was very passionate about – that being the importance of respecting the history of our ECMC brotherhood, its importance over the decades, and how we can use it as an example of tackling current barriers in the community. In order to prepare for the weekend I visited the Bishopsgate Archive in London, which hosts countless archive content from U.K. and European ECMC clubs. I researched plenty of information and took pictures of content that fitted my above topic area. Our on-stage opportunity was divided between a 3-minute performance, and a 1-minute speech. I let my topic areas fly in the 4-minutes total time that I had on stage, and left that stage with my head held high.
I must admit that when Andrea (Leather Friends Italia president) announced my name as the winner, I was not processing what had just happened. It was only until others up on stage started hugging me that I realised what had just happened! This weekend has left me feeling incredibly proud, emotional, and determined to take on another incredible year where I can do my best to support our European brotherhood. During my title year I hope to support our European brotherhood as much as possible, to where it counts. I hope to focus on three areas:1) the importance of respecting our history, learning from our elders and how they built this brotherhood2) actively identifying current barriers in our scene that need the most support3) creating strong pillars for our future community that promotes inclusivity and change  
If there is anybody who can help me on any of these three areas, please do reach out!
All the best,Tom Keller – Mr. Leather Europe 2024